Ukulele Club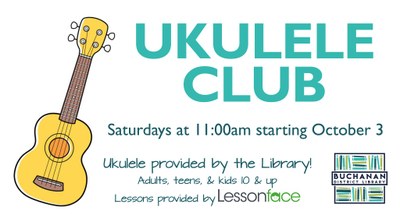 learn to play ukulele with BDL!
Ukulele Club
2020-10-03T11:00:00-04:00
2020-10-03T12:00:00-04:00
learn to play ukulele with BDL!
When

Oct 03, 2020

from 11:00 AM to 12:00 PM

(US/Eastern / UTC-400)

Where

Online

Contact Name Meg Paulette
Contact Phone

269-695-3681

Add event to calendar

iCal
The library is excited to announce our NEW Ukulele Club! The fall 2020 session will meet online, Saturdays at 11am, October 3 through November 21. The library will provide a ukulele for each participant to use during the session. A qualified ukulele teacher will teach the course through Lessonface. The teacher and club members will be able to see and interact with each other through Zoom.

Adults, teens, and kids 10 & up may participate in Ukulele Club. A limited number of spots are available, and registration is first come, first served. A concert or soprano ukulele will be provide to you. Size preference is also first come, first served. Participants must have a Buchanan Library card, and will also need to sign our LoT Lending Guidelines and Agreement (you can find it here https://www.buchananlibrary.org/how-do-i/check-out-items-from-the-library-of-things). Lessons will be online and a reliable internet connection is necessary to participate in the class. Ukuleles may be kept through the duration of the fall Ukulele Club session and then must be returned to the library. Ukuleles will be available for pick up the week of September 28.
CLASS IS NOW FULL. Interested in a future class? Sign up using this Google form to be contacted when we schedule the next session. https://forms.gle/iUp9HTVmSggkXHFj7

Questions? Email Meg at m.paulette@buchananlibrary.com.