Donate
Grow with the Buchanan District Library
Become part of our Gift of Knowledge Tree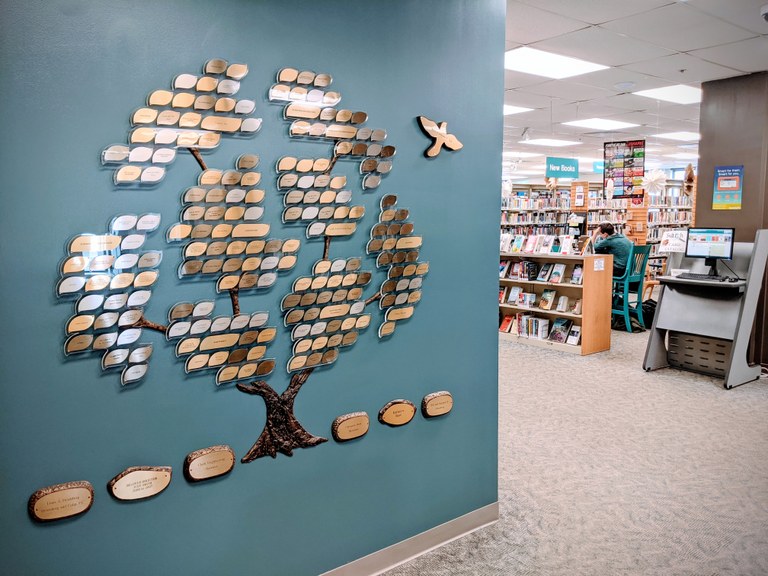 "Whatever the cost of libraries, the price is cheap compared to that of an ignorant nation." –Walter Cronkite
The Buchanan District Library is fortunate to be part of a generous community that has supported our continued growth over many years. Our Gift of Knowledge Tree recognizes gifts of $500 or more to the library, and features the names of many local individuals, families, and businesses who share a desire to support the library's mission in our community.
We look towards the future of our library with hope and enthusiasm, and if you feel the same, we ask you to consider growing with us on our Gift of Knowledge Tree. Each engraved leaf can bear the name of a business, be in memory or honor of a loved one, or simply display the name of the donor. We are inspired each day as we look at the names of our Buchanan friends and neighbors on the Tree, and we know we could not have accomplished what we have without them.
If you would like to be part of our Gift of Knowledge Tree, please contact library director, Meg Paulette, at m.paulette@buchananlibrary.com or by calling 269.695.3681. 
Thank you!
More information about donating to the Library
There are several ways you can support the library in its mission to provide quality material, superior programming, and exceptional services—delivered with care and integrity—to meet the needs of our diverse community.
Monetary donations are always welcome and appreciated! Funds donated to the Library are used to support:
Children's Services
Programs and Educational Outreach
Technology Development
Collections Development
General Library Services
You may make your gift to the library by cash or check, made out to the Buchanan District Library,  or by clicking the button below.
Click on the button below to make a one-time or recurring gift to the library. Thank you for your support!
Gifts to the library may be deductible on federal income tax. Please consult your tax adviser. 
Donating to the Library using a qualified charitable distribution (QCD)
If you are age 72 or older, IRS rules require you to take required minimum distributions (RMDs) each year from your tax-deferred retirement accounts. To learn more, check out this article from the Fidelity Learning Center.  
For the required documents to make a QCD to the Library, please click here.
Gifts in kind, such as craft supplies or packaged snacks, help us with our many community programs. If you are interested in donating needed items to support our programing, please contact Youth Services Coordinator, Sarah Gault, at s.gault@buchananlibrary.com for more information.
You or your business can Sponsor a program or event, either monetarily or through a donation of goods or services, and receive recognition for your support on our website and social media. For more information, please contact Director, Meg Paulette, at m.paulette@buchananlibrary.com.