Donate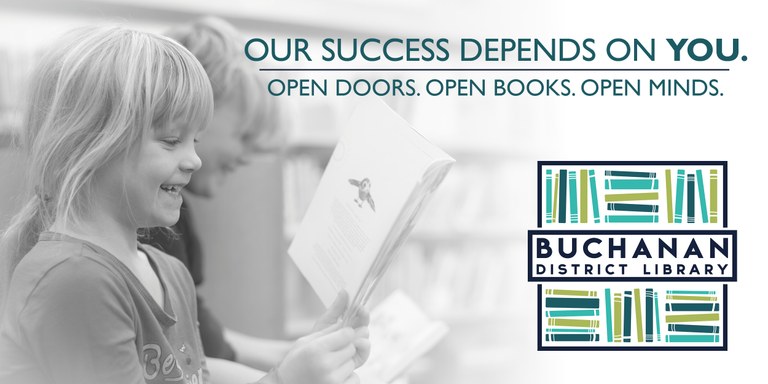 Click on the button below to make a one-time or recurring gift to the library. Thank you for your support!
"Whatever the cost of libraries, the price is cheap compared to that of an ignorant nation." –Walter Cronkite

It has been an eventful year at the Buchanan District Library! We were thrilled to open our Front Street entrance and complete our elevator. These major construction milestones bring us that much closer to our long-term goal of renovating the second floor. We are grateful for the community support that allowed us to complete these important renovations.
We also amended our policies this year to become a Fine-Free Library. We believe this is the right thing to do for our patrons, and we are proud to take this step toward making the library more accessible to everyone in our community. To learn more about why we chose to go Fine Free, please click here.
The Buchanan District Library is fortunate to have supporters like you. We know you value the Library and the services it provides to our community, and for this reason we ask you to please consider a year-end gift. Your support ensures the success and continued growth of the Library—an essential organization in our community.
Your generous gift will enable the Buchanan District Library to:
Provide programs for children of all ages—including Storytime, Geeky Bits, Writing Workshops, Summer Reading and more
Offer adult programs, events, and classes
Purchase books and other materials for the enjoyment and education of all our patrons and
Provide computers and Internet access to those who do not have access at home
We strive to make certain that the Buchanan District Library is here for everyone to use and enjoy. If the Library has been here for you, then now is the time for you to be here for the Library. Our success depends on the strong support of patrons and community members like you.
Your gift makes certain that the Buchanan District Library will be here for our community now and for generations to come. Thank you for your generosity and support.
With gratitude,



Meg Paulette                                                                           Dave Perez
Director                                                                                      Board President


More information about donating to the Library

You may make your gift to the library by cash or check, made out to the Buchanan District Library,  or by clicking the donate button at the top of the page.
Gifts to the library may be deductible on federal income tax. Please consult your tax adviser. 
Donating to the Library using a qualified charitable distribution (QCD)
If you are age 70½ or older, IRS rules require you to take required minimum distributions (RMDs) each year from your tax-deferred retirement accounts. To learn more, check out this article from the Fidelity Learning Center.  
For the required documents to make a QCD to the Library, please click here.
Gifts in kind, such as craft supplies or packaged snacks, help us with our many community programs. If you are interested in donating needed items to support our programing, please contact Youth Services Coordinator, Sarah Gault, at s.gault@buchananlibrary.com for more information.
You or your business can Sponsor a program or event, either monetarily or through a donation of goods or services, and receive recognition for your support on our website and social media. For more information, please contact Director, Meg Paulette, at m.paulette@buchananlibrary.com.