Adults
Writing Contest
Announcing Write On! our first Annual Writing Contest! Submissions will be accepted through September 30, with winners announced on October 15. Writers must be Buchanan District Library cardholders or students at Buchanan Community Schools. Age categories are under 12, 13–18, and adult, and you can submit a poem/song, short fiction, or an essay. Winners will be published in The Paper and receive a prize! Click here for more information and to submit your writing.
Adulting 101
Join Gena Frantz of First Source Bank in Niles to get a crash course in financial adulting! Learn about the difference between a checking/savings account, how a debit card works, how to balance a checkbook, and how to establish good credit. Perfect for high school seniors and young adults! Thursday, October 3, 6:30-7:30pm.
Megan and Marjorie at the Library
Join popular The Paper columnists, Megan Goodrich and Marjorie Trapp, for a community conversation featuring topics from their writing. Hear their views and share your own over coffee and light refreshments. Saturday, October 19, 10:00am
Craft Classes
Join our resident craft expert Debbie VerValin and learn a variety of new craft skills!  Projects include jewelry making, flower arranging, holiday crafts and much more.  Classes meet at Thursdays at 10:30-11:30am or 1:00-2:00pm and are free. Sign-up at the Front Desk; space is limited. 

  
September 19- Autumn Arrangements
October 17- Spirit Dolls
November 21- to be announced
December 19- to be announced

Coloring Sessions

Fun, therapeutic, and stress relieving are just a few of the words used to describe the current adult coloring book craze. Come join us for a relaxing coloring session at the library! Supplies are included, but feel free to bring your own. Hot drinks  will be provided.  No need to register, but if you'd like a reminder call, sign up at the Front Desk. Sessions meet Wednesdays at 10:30-11:30am and are free. Can't make it to a class? No problem! You can use our coloring materials any time the library is open, or take a few coloring pages home with you; ask at the Front Desk.


  September 11, October 9, November 13, December 11

Book Club
The Buchanan Book Club meets at the library the first Wednesday of every month at 6:00pm unless otherwise stated. Check the calendar for upcoming book club dates, or click here for the full 2019 list.
E-Book Device Hands-on Training Session
Come and get some hands on experience with our Kindle Fire and I-pad or bring in your own device and learn how to download books from the library's collection or click on the icon to get started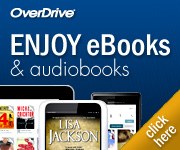 Stop by or call library to set up an appointment- 269-695-3681.