Adults
Maximize Your Giving

Did you know that at age 70½ or older, IRS rules require you to take required minimum distributions (RMDs) each year from your tax-deferred retirement accounts? Those funds can then be used to make a BIG difference in your community as Qualified Charitable Distributions! Join us to learn the ABCs of RMDs and QCDs from Justin Nurenberg and April Jonatzke of the Edward Jones office in Buchanan. Coffee and light refreshments will be served at this free event. Thursday, November 14, 1:00pm

Adulting 101: How to Change a Tire

Our Adulting 101 series continues with this hands-on class! Join us to learn this vital skill in the safety of BDL's parking lot. Space is limited, and only the first 6 who sign up will be able to bring their own car. After that, a limited number may be able to attend and work with a partner. If you bring your car, please bring your own jack and tire iron as well. Sign up at the Front Desk. Weather permitting. Saturday, November 16, 11:00am-12:00pm.
Library Holiday Fundraiser

BDL's popular holiday fundraiser is back! Enjoy music from DJ Bob Carnes, hors d'oeuvres, cash bar, silent auction, and the chance to jingle and mingle with other library supporters. Dress in your holiday best and join us for a Not-So-Silent Night at the Library! Tickets are $25.00 and can be bought in the library or online. All proceeds support the library. Saturday, December 14, 6:00-8:00pm.

Craft Classes
Join our resident craft expert Debbie VerValin and learn a variety of new craft skills!  Projects include jewelry making, flower arranging, holiday crafts and much more.  Classes meet at Thursdays at 10:30-11:30am or 1:00-2:00pm and are free. Sign-up at the Front Desk; space is limited. 

  
November 21- Christmas Ornament Potpourri
December 19- Fresh Greens Arrangements

Coloring Sessions

Fun, therapeutic, and stress relieving are just a few of the words used to describe the current adult coloring book craze. Come join us for a relaxing coloring session at the library! Supplies are included, but feel free to bring your own. Hot drinks  will be provided.  No need to register, but if you'd like a reminder call, sign up at the Front Desk. Sessions meet Wednesdays at 10:30-11:30am and are free. Can't make it to a class? No problem! You can use our coloring materials any time the library is open, or take a few coloring pages home with you; ask at the Front Desk.


 November 13, December 11

Book Club
The Buchanan Book Club meets at the library the first Wednesday of every month at 6:00pm unless otherwise stated. Check the calendar for upcoming book club dates, or click here for the full 2019 list.
E-Book Device Hands-on Training Session
Come and get some hands on experience with our Kindle Fire and I-pad or bring in your own device and learn how to download books from the library's collection or click on the icon to get started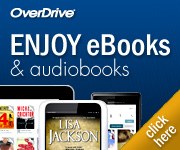 Stop by or call library to set up an appointment- 269-695-3681.