Adults

Adult Summer Reading Program
   June 1st-July 20th

Summer Reading is here and it's out of this world! Join our Universe of Stories and earn free books and a chance to win a prize! Register online with Wandoo Reader or at the Front Desk. Track your reading using Wandoo Reader or a paper bookmark. For every 5 books read, choose a free book and enter to win a prize! Ebooks and audiobooks count, too! Participating in challenges on Wandoo will earn you more chances to win a prize.
Top readers will also win prizes. First and Second place earn their choice of 3 gift baskets this year: Book Lovers, Movie Lovers, or Beach Lovers. A  drawing will be held for the remaining basket.
Front Street Entrance Opening!

Join us for an open house as we celebrate opening the Front Street Entrance! Thursday, July 25th 1:00-2:00pm.

Meet the Author: Anne Born

Join us Saturday, August 10th as we welcome author Anne Born to the Buchanan District Library. Anne is an award-winning, New York-based writer who has been writing stories and poetry since childhood. She blogs on The Backpack Press and Tumbleweed Pilgrim and her writing focuses on family and life in a big city after growing up in Niles, Michigan. She is the author of A Marshmallow on the Bus, Prayer Beads on the Train, Waiting on a Platform, Turnstiles, Buen Camino!, and Local Color (a 2019 INDEPENDENT PRESS AWARD Distinguished Favorite). Coffee and light refreshments will be available at this free event. Anne will have copies of her book, Local Color, available for purchase, and donations to the library will be gratefully accepted. Anne will return to the Niles/Buchanan area on October 26 to teach a Poetry in the Gardens workshop at Fernwood Botanical Garden. Saturday, August 10th 10:00am.
Craft Classes
Join our resident craft expert Debbie VerValin and learn a variety of new craft skills!  Projects include jewelry making, flower arranging, holiday crafts and much more.  Classes meet at Thursdays at 10:30-11:30am or 1:00-2:00pm and are free. Sign-up at the Front Desk; space is limited. 

  
July 18th- Memory Boxes
August 15th- Applique Book Bags
September 19th- Craft to be announced

Coloring Sessions

Fun, therapeutic, and stress relieving are just a few of the words used to describe the current adult coloring book craze. Come join us for a relaxing coloring session at the library! Supplies are included, but feel free to bring your own. Hot drinks  will be provided.  No need to register, but if you'd like a reminder call, sign up at the Front Desk. Sessions meet Wednesdays at 10:30-11:30am and are free. Can't make it to a class? No problem! You can use our coloring materials any time the library is open, or take a few coloring pages home with you; just ask at the Front Desk.


   July 10th, August 14th, September 11th

Book Club
The Buchanan Book Club meets at the library the first Wednesday of every month at 6:00pm unless otherwise stated. Check the calendar for upcoming book club dates, or click here for the full 2019 list. *July meeting has been moved to July 10th*

Sci-Fi & Fantasy Book Club
The Sci-Fi & Fantasy Book Club meets at the library on the second Wednesday of the month 6:30-8:00pm. It's open to teens and adults.
June 12th Space Opera by Catherynne M. Valente

July 10th The Poppy War by R.F. Kuang
August 14th Ember in the Ashes by Sabaa Tahir
September 11th Cluster by Piers Anthony

October 9th Pawn of Prophecy by David Eddings
November 13th Circe by Madeline Miller

December 11th All Seated on the Ground by Connie Willis

E-Book Device Hands-on Training Session
Come and get some hands on experience with our Kindle Fire and I-pad or bring in your own device and learn how to download books from the library's collection or click on the icon to get started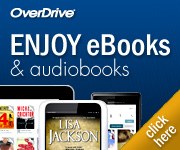 Stop by or call library to set up an appointment- 269-695-3681.