Adults
Special Events

Whitney Plantation Presentation
Please join us for a special presentation by Dr. John David VanDyke on Whitney Plantation in Edgard, Louisiana, the only museum plantation focused on the experience of slavery. Dr. VanDyke will also present his research on the Quaker line of the Underground Railroad. Saturday, September 22nd 11:00am-1:00pm.
Ghost Walk Fundraiser
Grab your friends and take a guided walking tour around Buchanan to hear ghostly stories! Tickets are $7.00 for adults and $5.00 for students (ages 5-17) and will be available at the library, Redbud Insurance, and the Tin Shop Theatre. Tour will start at the Tin Shop Theatre. Proceeds will benefit the library's Building Campaign and the Buchanan Fine Arts Council. Saturday, October 20th 6:00-8:00pm.

Craft Classes
Join our resident craft expert Debbie VerValin and learn a variety of new craft skills!  Projects include jewelry making, flower arranging, holiday crafts and much more.  Classes meet at Thursdays at 10:30-11:30am or 1:00-2:00pm and are free. Sign-up at the Front Desk; space is limited. 

  
September 20th Autumn Arrangements
October 18th Needle-felted Fawns
November 15th Pine Cone Bird Nests & Chicken Wreaths
December 13th Fresh Greens Arrangements

Coloring Sessions

Fun, therapeutic, and stress relieving are just a few of the words used to describe the current adult coloring book craze. Come join us for a relaxing coloring session at the library! Supplies are included, but feel free to bring your own. Hot drinks  will be provided.  No need to register, but if you'd like a reminder call, sign up at the Front Desk. Sessions meet Wednesdays at 10:30-11:30am and are free. Can't make it to a class? No problem! You can use our coloring materials any time the library is open, or take a few coloring pages home with you; just ask at the Front Desk.


October 10th
November 14th
December 12th

Book Club
The Buchanan Book Club meets at the library the first Wednesday of every month at 6:00pm unless otherwise stated. Check the calendar for upcoming book club dates, or click here for the full 2018 list.

Sci-Fi & Fantasy Book Club
The Sci-Fi & Fantasy Book Club meets at the library on the second Wednesday of the month 6:30-8:00pm. It's open to teens and adults.
October 10th - Red Mars by Kim Stanley Robinson

November 14th- The Eyre Affair by Jasper Fforde

December 12th- Frankenstein by Mary Shelley.
Feel free to bring snacks and suggestions for 2019's meetings!


E-Book Device Hands-on Training Session
Come and get some hands on experience with our Kindle Fire and I-pad or bring in your own device and learn how to download books from the library's collection or click on the icon to get started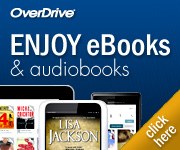 Stop by or call library to set up an appointment- 269-695-3681.
Looking for a good book to read?

View our most checked out titles and staff favorites by clicking here.