Adults
Summer Reading Program



You are invited to Imagine Your Story this summer with the Buchanan District Library! This year our Summer Reading Program will once again be conducted online through Wandoo. No internet access? No problem! Sign up at the library and ask for a paper reading log. Summer Reading is open to library members of all ages.  Click Here  to sign up for a temporary account if you don't already have a card.
Track your reading from June 15th to July 31st.  For every 5 books you read, you earn a free book and a chance to win a prize! Top readers will also win prizes. Completing challenges in Wandoo Reader will also earn you more chances to win a prize. Log your reading on Wandoo Reader or with a paper log.
If you want to participate but don't have transportation to the library, please contact Director Meg Paulette at 269-695-3681 or m.paulette@buchananlibrary.com.
Young Adult Book Club- Online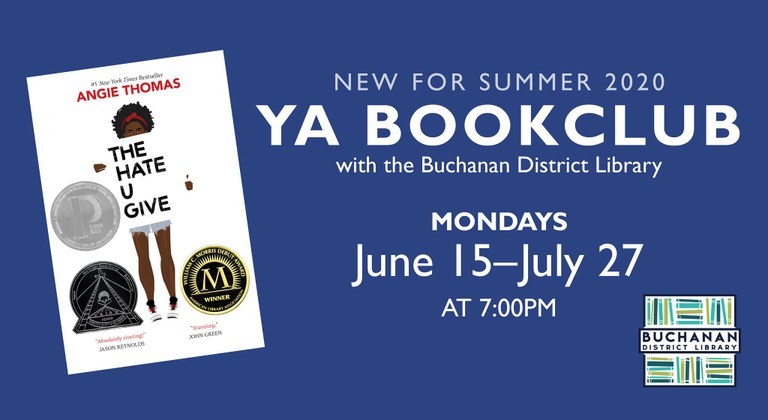 Join the Buchanan District Library this summer for our new YA Book Club, featuring The Hate U Give by Angie Thomas. This important book tells the story of 16-year-old Starr Carter and her experiences with racism, police brutality, and activism after witnessing the fatal shooting of her childhood best friend, Khalil, at the hands of a police officer.

YA Book Club members will receive a copy of the book to read over the 7 week session, and will participate in weekly discussions with other book club members via Google Meet. This group welcomes teens, young adults, and anyone who enjoys reading young adult literature.

The Book Club will meet online Mondays at 7:00pm June 15 through July 27. Space is limited and registration is required—please sign up using this Google form: https://forms.gle/QiMkQE2gCLBXbYPA7
Coloring Sessions

Coloring sessions have been postponed until further notice. Miss coloring? Ask for some coloring pages the next time you pick up curbside service. Colored something awesome? We'd love to see it! Post it to our Facebook page or email it to m.paulette@buchananlibrary.com!
Fun, therapeutic, and stress relieving are just a few of the words used to describe the current adult coloring book craze. Come join us for a relaxing coloring session at the library! Supplies are included, but feel free to bring your own. Hot drinks  will be provided.  No need to register, but if you'd like a reminder call, sign up at the Front Desk. Sessions meet the second Wednesday of the month at 10:30-11:30am and are free. Can't make it to a class? No problem! You can use our coloring materials any time the library is open, or take a few coloring pages home with you; ask at the Front Desk.


Book Club
The Buchanan Book Club is currently not meeting. Once the library opens to the public, contact us to see when meetings will resume. The book club normally meets at the library the first Wednesday of every month at 6:00pm unless otherwise stated. Check the calendar for upcoming book club dates, or click here for the full 2020 list.