Adults
Meet the Author: Gabrielle Robinson
On September 24, the Buchanan District Library hosted a special program with South Bend-based author, Gabrielle Robinson. She discussed her latest book, Api's Berlin Diaries: My Quest to Understand my Grandfather's Nazi Past, and talked about how you can capture your own family history through writing. Gabrielle tells stories about people that reveal their personal situation within its historical context.One reason for her fascination with the intersection of the personal and historical stems from her own experience. Born in Berlin in 1942, her father's fighter plane was shot down in 1943. After her family was bombed out twice, they fled Berlin in 1945.
After her mother's death, Gabrielle Robinson found diaries her grandfather had kept while serving as a doctor in Berlin in 1945—only to discover that her beloved Api had been a Nazi. Moving and provocative, Api's Berlin Diaries offers a first hand and personal perspective on the far reaching aftershocks of the Third Reich and the author's own inconvenient past.
You can view a video of Gabrielle's talk here or on
YouTube.

YA Book Club

Join the YA Book Club  to read and discuss
The Perks of Being a Wallflower
by Stephen Chbosky. The club will meet for 4 dates in September and October on Google Meet and outside the library (weather permitting). Megan Goodrich, founder of One Month at a Time, will lead the discussion. This book deals with many difficult topics, including but not limited to serious mental health conditions and sexual abuse and assault. Adults as well as teens are welcome to participate—please email
m.paulette@buchananlibrary.com
if you have questions. Teens will need a parent or guardian's permission to join us. Click the link below to fill out a form to sign up for the YA Book Club, or email
m.paulette@buchananlibrary.com
.
Book Club meets every other Wednesday 7:00pm, September 16 through October 28.
Ukulele Club

The library is excited to announce our NEW Ukulele Club! The fall 2020 session will meet online, Saturdays at 11am, October 3 through November 21. The library will provide a ukulele for each participant to use during the session. A qualified ukulele teacher will teach the course through Lessonface. The teacher and club members will be able to see and interact with each other through Zoom.

SPACE IS LIMITED. Sign up using this Google form. https://forms.gle/iUp9HTVmSggkXHFj7

Adults, teens, and kids 10 & up may participate in Ukulele Club. A limited number of spots are available, and registration is first come, first served. A concert or soprano ukulele will be provide to you. Size preference is also first come, first served. Participants must have a Buchanan Library card, and will also need to sign our LoT Lending Guidelines and Agreement (you can find it here https://www.buchananlibrary.org/how-do-i/check-out-items-from-the-library-of-things). Lessons will be online and a reliable internet connection is necessary to participate in the class. Ukuleles may be kept through the duration of the fall Ukulele Club session and then must be returned to the library. Ukuleles will be available for pick up the week of September 28.

Questions? Email Meg at m.paulette@buchananlibrary.com.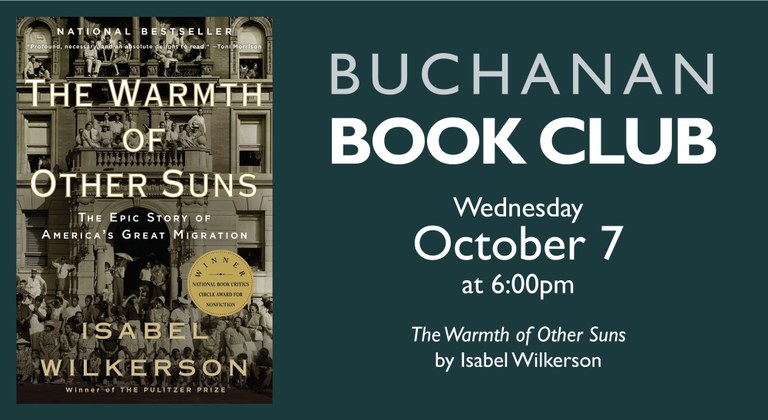 Book Club
The Buchanan Book Club  normally meets at the library the first Wednesday of every month at 6:00pm unless otherwise stated. Currently they are meeting online through Google Meet. Email m.paulette@buchananlibrary.com to join. October 7th's discussion will be on The Warmth of Other Suns by Isabel Wilkerson. November 4th's discussion will be on Who we are and how we got here by David Reich.
Coloring Sessions

Coloring sessions have been postponed until further notice. Miss coloring? Ask for some coloring pages the next time you stop by or pick up curbside service. Colored something awesome? We'd love to see it! Post it to our Facebook page or email it to m.paulette@buchananlibrary.com!
Fun, therapeutic, and stress relieving are just a few of the words used to describe the current adult coloring book craze. Come join us for a relaxing coloring session at the library! Supplies are included, but feel free to bring your own. Hot drinks  will be provided.  No need to register, but if you'd like a reminder call, sign up at the Front Desk. Sessions meet the second Wednesday of the month at 10:30-11:30am and are free. Can't make it to a class? No problem! You can use our coloring materials any time the library is open, or take a few coloring pages home with you; ask at the Front Desk.