About BDL's Library of Things
Buchanan District Library's Library of Things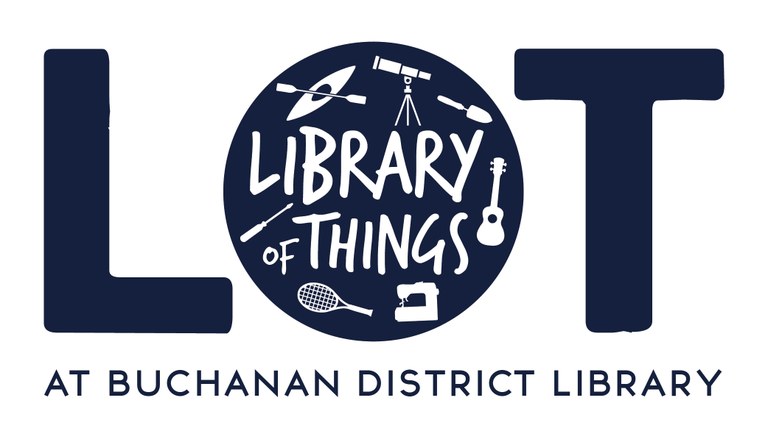 Buchanan District Library now offers a Library of Things!
Books, audiobooks, games, and movies are being joined by a wide variety of nontraditional library items for patrons to check out at the Buchanan District Library.

"This is a natural extension of what libraries already do, and will allow us to better meet the needs of our patrons," said Meg Paulette, library director. "A Library of Things is a way for our community to share resources and expand the boundaries of what a library usually offers."
The Library of Things offers items such as tools, musical instruments, outdoor equipment, and more. Go to the LoT Catalog to see what's available!
How to check out items from the LoT


Becoming an approved LoT patron
You must be 18 or older and in good standing with the library, with no outstanding fees over $5 on your account.
New Library of Things patrons may only check out one LoT item during their first loan period as an LoT patron.
You must present a photo ID, and the address on your ID must match the address we have on file. If you do not have a photo ID, please let us know and we will do our best to find another way to verify your address.
Read and sign the LoT Lending Guidelines and Agreement . 
You are now ready to check out LoT items!
Subsequent LoT checkouts
You must be an approved LoT  patron without any fees over $5 on your account.
Show your photo ID with address information that matches library records.
Date and initial your LoT Agreement each time you check out an item. You will be reminded of the replacement cost of the item and that replacement costs are subject to change.
You are strongly encouraged to reserve items through your account in the library catalog ahead of time so that they may be ready for you.  If you did not call or reserve your item ahead of time you may be asked to wait until a staff person is available to retrieve the Thing from LoT storage.
A staff person will go over the contents of the item with you.
Enjoy your LoT item!

Returning a LoT item
LoT items must be returned at the circulation desk, directly to a staff member. If items are put in the drop box or left at the desk unattended your LoT privilages may be suspended.
While you are still at the circulation desk, a staff member will check the item for basic cleanliness and that all parts/pieces are accounted for.  If the item is in a condition that would not be ready for the next patron, you will be asked to keep the item until you bring it back in check-out ready condition or forfeit your LoT privilages. The item will remain on your account until it is returned in checkout condition.
How to reserve items from the LoT


You can make reservations for an LoT item online or over the phone by calling 269-695-3681. To reserve an item online:
Go to the Library of Things Catalog or the regular BDL Catalog


Log in with your library card number and  your 10 digit phone number
Search the catalog for the item you want. You may need to click the item to bring up more information
Click the gray "Reserve this item" button.

This will prompt a popup. Click in the "target date" box and choose a date from the calendar. Unavailable dates will be grayed out. If the item is currently available, you can choose today's date.
Click the gray "Place reserve" button.

Wait until you are notified that your reserve is ready for you before you make a special trip to the library. If you requested the item for today, it's best to call ahead and make sure we get the item ready before you come to pick it up.
Questions? Visit us during library hours or call 269.695.3681.
Let us know what YOU would like in the Library of Things!