SEED SAVING 101 WITH BEVIN COHEN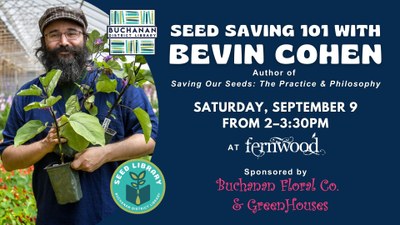 SEED SAVING 101 WITH BEVIN COHEN
2023-09-09T14:00:00-04:00
2023-09-09T15:30:00-04:00
When

Sep 09, 2023

from 02:00 PM to 03:30 PM

(US/Eastern / UTC-400)

Where

Fernwood's Clark Art Gallery and Bauer Terrace

Contact Name Jen Munoz
Contact Phone

269-695-3681

Add event to calendar

iCal
Have you ever wanted to save your garden seeds for the next season but didn't know where to start? This fun and informative presentation from author, Bevin Cohen, highlights the importance of saving and sharing our garden seeds and how to successfully do it at home! Learn why planting, saving, and sharing seeds is essential to the cultivation of sustainable neighborhoods and healthy communities. Bevin will share practical tips and advice through a blend of demonstration and lecture. Plus, you'll have the chance to get your own hands dirty with seed saving technique stations. Books will be available for purchase after the presentation.
About the instructor: Bevin Cohen (Ben) is an award-winning author, herbalist, owner of Small House Farm, and host of the popular Seeds & Weeds podcast. He lives and works at Small House Farm with his wife, Heather, and two sons, Elijah and Anakin, on their family homestead in Sanford, Michigan. Bevin offers workshops and lectures across the country on the benefits of living closer to the land through seeds, herbs, and locally grown food. He is a freelance writer whose work has appeared in numerous publications including Mother Earth News, Hobby Farms Magazine, and The Baker Creek Heirloom Seed Company Catalog. He is the author of four books, including Saving Our Seeds – The Practice and Philosophy. The Cohen family grows seed crops, herbs, and flowers and also keeps a small flock of laying hens. Bevin is also the founder of the Michigan Seed Library Network, a community seed sharing initiative that has worked closely with a number of communities to help establish seed library programs across his home state and beyond.  Learn more about Bevin's work at www.smallhousefarm.com.
Suggested Audience: Teens and Adults
Location: Fernwood's Clark Art Gallery and Bauer Terrace
Cost: Free with Fernwood admission, Fernwood membership card, or Buchanan District Library card
When: Saturday, September 9, 2:00-3:30pm
*Walk-ins are welcome, but please let us know you plan to join us by signing up here.