Read to a Dog!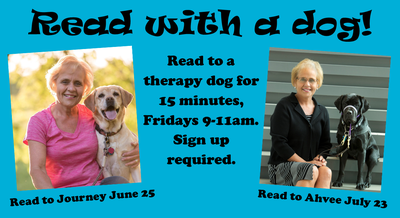 Read to a Dog!
2021-06-25T09:00:00-04:00
2021-06-25T11:00:00-04:00
When

Jun 25, 2021

from 09:00 AM to 11:00 AM

(US/Eastern / UTC-400)

Contact Name Sarah Gault
Contact Phone

269-695-3681

Add event to calendar

iCal
READ WITH JOURNEY the DOG
Friday, June 25th, 9-11am
Journey is a 9 year-old Yellow Labrador Retriever owned by Janet Cooper.  Journey is a trained therapy dog and wants to hear you read. Bring your favorite book and come read to Journey for 15 minutes!
Sign-up for your 15 minute slot at the library!