Meet the Author | Phil Brackett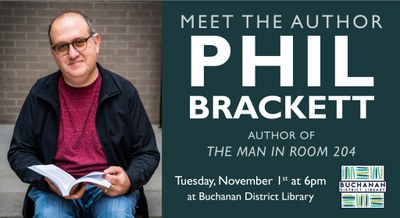 Meet the Author | Phil Brackett
2022-11-01T18:00:00-04:00
2022-11-01T19:00:00-04:00
When

Nov 01, 2022

from 06:00 PM to 07:00 PM

(US/Eastern / UTC-400)

Contact Name Jen Munoz
Contact Phone

269-695-3681

Add event to calendar

iCal
Join us to meet local author, Phil Brackett, and hear about his new book, The Man in Room 204. Light refreshments will be served.
Bio of the Author:
Phil Brackett lives in his hometown with his wife, Jennie, and three children, Garrett, Lilly, and Sarah. He has been writing creatively since approximately the seventh grade, when his English teacher gave his sequel concept for The Never-ending Story II (probably around 1988) an A+. These days, he is a teacher, encouraging his students in ELA and Psychology.
Description of The Man in Room 204:
In Bangor Springs, Michigan, the mystery of Miller's Field has inspired legends and wives' tales for almost a hundred years. What happened out there, so long ago, that tainted the land? What is causing, in that place, the strange occurrences that continue to happen? The deaths? The disappearances? The answers have been hard to come by, even for people who've been looking. 1300 miles away from Bangor Springs, many of the answers are trapped in the decaying mind of the Man in Room 204.