Meet the Author: Gabrielle Robinson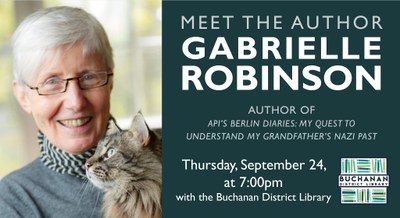 Virtual Author Visit
Meet the Author: Gabrielle Robinson
2020-09-24T19:00:00-04:00
2020-09-24T20:00:00-04:00
Virtual Author Visit
When

Sep 24, 2020

from 07:00 PM to 08:00 PM

(US/Eastern / UTC-400)

Where

online with Google Meet

Contact Name Meg Paulette
Contact Phone

269-695-3681

Add event to calendar

iCal
Join the Buchanan District Library for a special program with South Bend-based author, Gabrielle Robinson. She will discuss her latest book, Api's Berlin Diaries: My Quest to Understand my Grandfather's Nazi Past, and talk about how you can capture your own family history through writing.
Gabrielle tells stories about people that reveal their personal situation within its historical context.
One reason for her fascination with the intersection of the personal and historical stems from her own experience. Born in Berlin in 1942, her father's fighter plane was shot down in 1943. After her family was bombed out twice, they fled Berlin in 1945.
After her mother's death, Gabrielle Robinson found diaries her grandfather had kept while serving as a doctor in Berlin in 1945—only to discover that her beloved Api had been a Nazi. Moving and provocative, Api's Berlin Diaries offers a first hand and personal perspective on the far reaching aftershocks of the Third Reich and the author's own inconvenient past.
This event will be held on Google Meet and will allow participants to interact and ask questions. Please click this link (
https://forms.gle/US8hsbFg5nmGSb5u6
) or email m.paulette@buchananlibrary.com to register.