MAKE A BOT!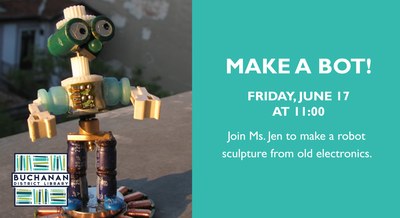 MAKE A BOT!
2022-06-17T11:00:00-04:00
2022-06-17T12:00:00-04:00
When

Jun 17, 2022

from 11:00 AM to 12:00 PM

(US/Eastern / UTC-400)

Contact Name Jen Munoz
Contact Phone

269-695-3681

Add event to calendar

iCal
Join Ms. Jen to make a robot sculpture from old electronics. The robot will be a cool art piece for you to display in your home. Friday, June 17 at 11am.