YA Book Club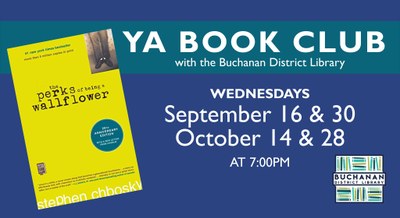 Book Club for teens and young adults
YA Book Club
2020-10-14T19:00:00-04:00
2020-10-14T20:00:00-04:00
Book Club for teens and young adults
When

Oct 14, 2020

from 07:00 PM to 08:00 PM

(US/Eastern / UTC-400)

Where

Online

Contact Name Meg Paulette
Contact Phone

269-695-3681

Add event to calendar

iCal
Join the YA Book Club at the Buchanan District Library to read and discuss The Perks of Being a Wallflower by Stephen Chbosky. The club will meet for 4 dates in September and October on Google Meet and outside the library (weather permitting). Megan Goodrich, founder of One Month at a Time, will lead the discussion.
This book deals with many difficult topics, including but not limited to serious mental health conditions and sexual abuse and assault. Adults as well as teens are welcome
to participate—please email m.paulette@buchananlibrary.com if you have questions. Teens will need a parent or guardian's permission to join us.
Click the link below to fill out a form to sign up for the YA Book Club, or email
m.paulette@buchananlibrary.com.
About
The Perks of Being a Wallflower:
standing on the fringes of life...
offers a unique perspective. But there comes a time to see
what it looks like from the dance floor.
This is the story of what it's like to grow up in high school. More intimate than a diary, Charlie's letters are singular and unique, hilarious and devastating. We may not
know where he lives. We may not know to whom he is writing. All we know is the world he shares. Caught between trying to live his life and trying to run from it puts him on a strange course through uncharted territory.