Adult Ukulele Club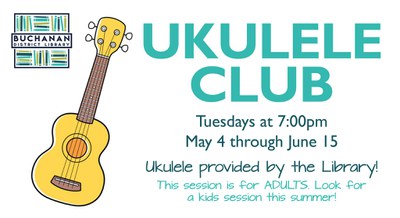 Spring 2021 session of BDL's Ukulele Club, for adults
Adult Ukulele Club
2021-05-04T19:00:00-04:00
2021-05-04T20:00:00-04:00
Spring 2021 session of BDL's Ukulele Club, for adults
When

May 04, 2021

from 07:00 PM to 08:00 PM

(US/Eastern / UTC-400)

Where

online

Contact Name Meg Paulette
Contact Phone

269-695-3681

Add event to calendar

iCal
Another session of our popular Ukulele Club starts May 4! This session will meet online, Tuesdays at 7pm, May 4 through June 15. The library will provide a ukulele for each participant to use during the session. Classes will be held online via Zoom, and open "office hours" will be available each week for participants to come into the library to receive one-on-one instruction.
This session of the Ukulele Club is for Adults (look for a kids session this summer!). A limited number of spots are available so registration is first come, first served. A concert or soprano ukulele will be provided to you. Size preference is also first come, first served. Participants must have a Buchanan Library card, and will also be required to sign our
LoT Lending Guidelines and Agreement
.
Lessons will be online and a
reliable internet connection is necessary
to participate in the class. Ukuleles may be kept through the duration of the Ukulele Club session and then must be returned to the library.