Buchanan Book Club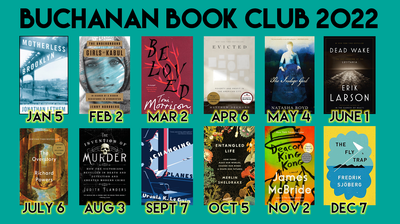 Monthly Adult Book Club
Buchanan Book Club
2022-01-05T18:00:00-05:00
2022-01-05T20:00:00-05:00
Monthly Adult Book Club
When

Jan 05, 2022

from 06:00 PM to 08:00 PM

(US/Eastern / UTC-500)

Contact Name Laura Hauch
Contact Phone

269-695-3681

Add event to calendar

iCal
Come join our book discussion! Meets the first Wednesday of the month *at 6:00-7:00pm* at the library, or online, or outside when weather permits. Club will notify members by email. Please email laura.hauch@buchananlibrary.com if you'd like to join the club/contact list.
January 5- Motherless Brooklyn by Jonathan Lethem
February 2- The Underground Girls of Kabul by Jenny Nordberg
March 2- Beloved by Toni Morrison
April 6- Evicted: Poverty and Profit in the American City by Matthew Desmond
May 4- The Indigo Girl by Natasha Boyd
June 1- Dead Wake by Erik Larson
July 6- The Overstory by Richard Powers
August 3- The Invention of Murder by Judith Flanders
September 7- Changing Planes by Ursula K. Le Guin
October 5- Entangled Life by Merlin Sheldrake
November 2- Deacon King Kong by James McBride
December 7- The Fly Trap by Fredrik Sjoberg (meeting location TBA)
Don't have the book and the library's copy is checked out? We can get it for you through MeLCat interlibrary loan! Go to www.mel.org or ask at the Front Desk to request it.