Buchanan Book Club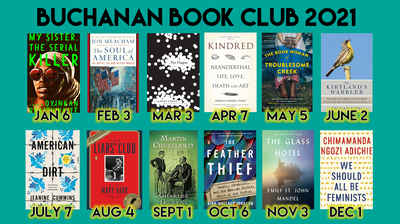 Monthly Adult Book Club
Buchanan Book Club
2021-11-03T17:00:00-04:00
2021-11-03T19:00:00-04:00
Monthly Adult Book Club
When

Nov 03, 2021

from 05:00 PM to 07:00 PM

(US/Eastern / UTC-400)

Contact Name Laura Hauch
Contact Phone

269-695-3681

Add event to calendar

iCal
Come join our book discussion! Meets the first Wednesday of the month *now at 5:00-7:00pm* at the library unless otherwise stated. Please email laura.hauch@buchananlibrary.com if you'd like to join.
January 6- My Sister the Serial Killer by Oyinkan Braithwaite
February 3- The Soul of America: The Battle for our Better Angels by Jon Meacham
March 3- The Plague by Albert Camus
April 7- Kindred: Neanderthal Life, Love, and Death by Rebecca Wragg Sykes
May 5- The Book Woman of Troublesome Creek by Kim Michele Richardson
June 2- The Kirkland's Warbler by William Rapai
July 7- American Dirt by Jeanine Cummins
August 4- The Liars' Club by Mary Karr
*Moved to September 8- The Life and Adventures of Martin Chuzzlewit by Charles Dickens
October 6- The Feather Thief by Kirk Wallace Johnson
November 3- The Glass Hotel by Emily St. John Mandel
December 1- We Should All Be Feminists by Chimamanda Nkozi Adiche (meeting location TBA)
Don't have the book and the library's copy is checked out? We can get it for you through MeLCat interlibrary loan! Go to www.mel.org or ask at the Front Desk to request it.