A Not-So-Silent Night At The Library!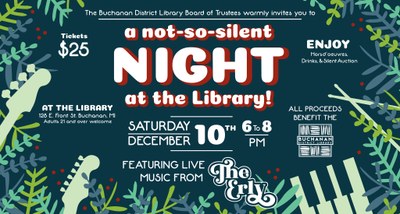 A Not-So-Silent Night At The Library!
2022-12-10T18:00:00-05:00
2022-12-10T20:00:00-05:00
When

Dec 10, 2022

from 06:00 PM to 08:00 PM

(US/Eastern / UTC-500)

Where

at the Library

Contact Name Jen Munoz
Contact Phone

269-695-3681

Add event to calendar

iCal
Buchanan District Library's popular holiday event is back IN-PERSON this year at the Library! Combining the best of live and virtual events, this fundraiser features a week-long online silent auction that will end at our festive holiday party on December 10! Anyone can participate in the auction, even if they are unable to attend the event. The silent auction starts December 2 and runs through December 10.
All proceeds benefit YOUR library, and help us offer more books, programs, and services to our community.
Interested in becoming an event sponsor? Email Library Director, Meg Paulette Perez, at m.paulette@buchananlibrary.com for more information.