Adults
Congratulations to our Summer Reading Program winners and thank you to everyone who participated! Last day to pick prize books is August 15th.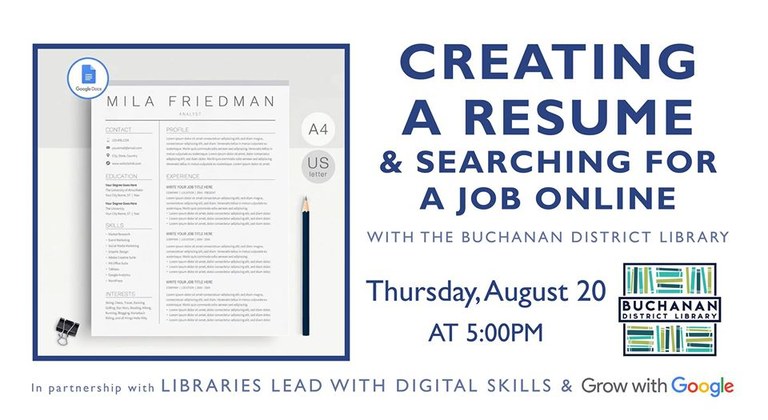 Searching for a job? Join the library at
5:00pm on Thursday, August 20
, for a free workshop on creating a resume with Google Docs and searching for a job online, supported by
#LibrariesLead
with Digital Skills &
#GrowWithGoogle
! Please register for the event by clicking the link below.
Coloring Sessions

Coloring sessions have been postponed until further notice. Miss coloring? Ask for some coloring pages the next time you stop by or pick up curbside service. Colored something awesome? We'd love to see it! Post it to our Facebook page or email it to m.paulette@buchananlibrary.com!
Fun, therapeutic, and stress relieving are just a few of the words used to describe the current adult coloring book craze. Come join us for a relaxing coloring session at the library! Supplies are included, but feel free to bring your own. Hot drinks  will be provided.  No need to register, but if you'd like a reminder call, sign up at the Front Desk. Sessions meet the second Wednesday of the month at 10:30-11:30am and are free. Can't make it to a class? No problem! You can use our coloring materials any time the library is open, or take a few coloring pages home with you; ask at the Front Desk.


Book Club
The Buchanan Book Club is currently not meeting. Once the library opens to the public, contact us to see when meetings will resume. The book club normally meets at the library the first Wednesday of every month at 6:00pm unless otherwise stated. Check the calendar for upcoming book club dates, or click here for the full 2020 list.