Adults

Looking for something to do while the library is closed? Join our Spring Reading Challenge! Children and adults, every 60 minutes you read between April 17 and May 15 will earn you an entry to our weekly drawing for a $25 gift card to a local restaurant. The more you read, the more chances at winning you earn! Completing challenges will also earn you entries.

Weekly drawings will take place on Fridays; one drawing for ages 0-17, one for 18 and older. In order to be eligible to win, participant (or parent/guardian) must have a Buchanan library card. Click Here  to sign up for a temporary account if you don't already have a card.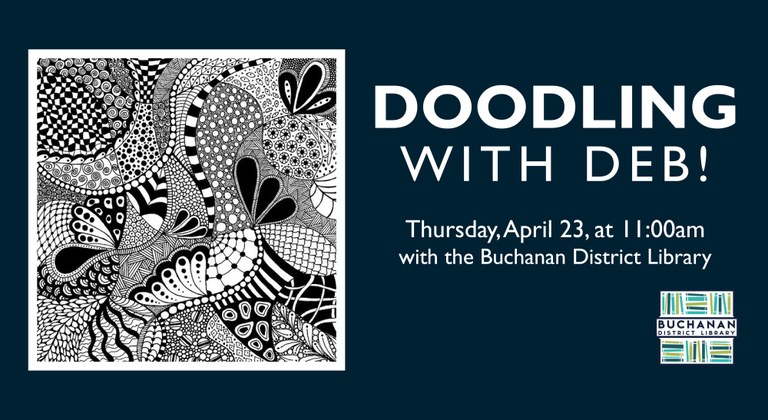 Join your favorite crafty librarian, Debbie Vervalin, for an introduction to Zentangle-style doodling. All you need is paper and something to doodle with! Click the link below to join in. Questions about using Zoom? Email Meg at m.paulette@buchananlibrary.com.

Doodling with Deb
Apr 23, 2020 11:00 AM Eastern Time (US and Canada)

Join Zoom Meeting
https://us02web.zoom.us/j/85897349801


One Month at a Time with Megan Goodrich

Join Megan Goodrich, founder of One Month at a Time, for a discussion about period poverty—what it is and who it effects, along with an overview of how One Month at a Time is aiming to help those affected by period poverty in our community. Bring your questions and donations of period products if you wish. Light refreshments will be served at this free event.
Postponed; check back later for rescheduled date.
Meet the Author: Susan Shapiro

Senior Day Luau

Adults 60+ join us for a Luau themed afternoon of games, prizes, appetizers, wine tasting, crafts, & more! APRIL 25 DATE CANCELED. THIS EVENT WILL BE RESCHEDULED.
Craft Classes
Join our resident craft expert Debbie VerValin and learn a variety of new craft skills!  Projects include jewelry making, flower arranging, holiday crafts and much more.  Classes meet at Thursdays at 10:30-11:30am or 1:00-2:00pm and are free. Sign-up at the Front Desk; space is limited. 

  
Coloring Sessions

Fun, therapeutic, and stress relieving are just a few of the words used to describe the current adult coloring book craze. Come join us for a relaxing coloring session at the library! Supplies are included, but feel free to bring your own. Hot drinks  will be provided.  No need to register, but if you'd like a reminder call, sign up at the Front Desk. Sessions meet the second Wednesday of the month at 10:30-11:30am and are free. Can't make it to a class? No problem! You can use our coloring materials any time the library is open, or take a few coloring pages home with you; ask at the Front Desk.


Book Club
The Buchanan Book Club meets at the library the first Wednesday of every month at 6:00pm unless otherwise stated. Check the calendar for upcoming book club dates, or click here for the full 2020 list.