The Michigan Magnet Man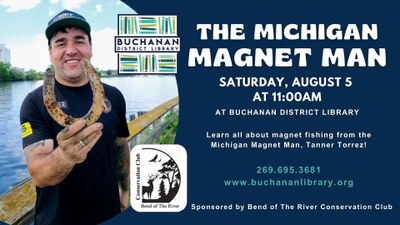 The Michigan Magnet Man
2023-08-05T11:00:00-04:00
2023-08-05T12:00:00-04:00
When

Aug 05, 2023

from 11:00 AM to 12:00 PM

(US/Eastern / UTC-400)

Contact Name Jen Munoz
Contact Phone

2696953681

Add event to calendar

iCal
Join us as we welcome the "Michigan Magnet Man," Tanner Torrez! This engaging lecture on Magnet Fishing provides valuable insights and practical knowledge for enthusiasts. Attendees will have the opportunity to explore two tables showcasing Tanner's best magnet fishing finds. The lecture covers various topics such as gear selection, locating ideal magnet fishing locations, managing police interactions, handling potential issues, freeing stuck magnets, fishing in strong currents, securing ropes, proper metal disposal, and more. The program concludes with a dedicated Q&A session and time for attendees to view the displayed finds.
Thank you to Bend of The River Conservation Club for sponsoring this event!
Saturday, August 5 at 11:00am.