Adults
Special Events
Su's Retirement Open House
Join us for cake and punch as we send our Su well wishes for her retirement. Thursday, November 2nd 12:00-3:00pm.

Hacienda Gives Back Fundraiser
Grab a certificate and a friend and go have dinner at the Portage Ave. Hacienda in South Bend Sunday, November 5th. 20% of your bill will go towards the library's Building Campaign. Can't make it that night? Buy a gift card through us and 20% of that will go to our Building Campaign as well! Forgot your paper certificate? Show your server this photo on your smart phone!

Abraham Lincoln Visits the Library


Come meet Abraham Lincoln and listen to his presentation! All ages welcome; sponsored by the Library and Buchanan Middle School. Wednesday, November 8th 4:00-5:30pm.
Library Book Sale
Check out our expanded book sale on White Saturday, November 25th 9:00am-5:00pm and buy one book, get one free, or fill a bag for $5.00!

BDL 80th Birthday Soiree & Fundraiser
The Buchanan District Library Board of Trustees warmly invites you to BDL's Birthday Soiree and Fundraiser benefitting the library's Open Doors, Open Books, Open Minds Building Campaign. Join us Saturday, December 9th 6:00-8:00pm for hors d'oeuvres, drinks, live music, and silent auction. Adults 21 and over are welcome; tickets are $20 per person. RSVP kindly suggested by December 4th to Barbara Wallace at 269-695-1911 or b.wallace@buchananlibrary.com.

Regular Programming

Craft Classes
Join our resident craft expert Debbie VerValin and learn a variety of new craft skills!  Projects include jewelry making, flower arranging, holiday crafts and much more.  Classes meet at 10:30-11:30am or 1:00-2:00pm and are free. Sign-up at the Front Desk; space is limited. 

  
Thursday, November 16th Christmas decorations and ornaments.
Thursday, December 14th Fresh Greens Arrangements.
Coloring Sessions

Fun, therapeutic, and stress relieving are just a few of the words used to describe the current adult coloring book craze. Come join us for a relaxing coloring session at the library! Supplies are included, but feel free to bring your own. Hot drinks and music will be provided.  No need to register, but if you'd like a reminder call, sign up at the Front Desk. Can't make it to a class? No problem! You can use our coloring materials any time the library is open, or take a few coloring pages home with you; just ask at the Front Desk.



Wednesday, November 8th, 10:30-11:30am

Wednesday, December 6th, 10:30-11:30am
Book Club
The Buchanan Book Club meets at the library the first Wednesday of every month at 6:00pm unless otherwise stated. Check the calendar for upcoming book club dates, or click here for the full 2017 list.

E-Book Device Hands-on Training Session
Come and get some hands on experience with our Kindle Fire and I-pad or bring in your own device and learn how to download books from the library's collection or click on the icon to get started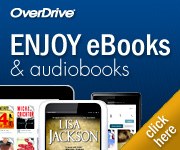 Stop by or call library to set up an appointment- 269-695-3681.
Looking for a good book to read?

View our most checked out titles and staff favorites by clicking here.