Adults
Special Events

Home Buyer Workshop
Jason Vanlue of United Federal Credit Union and Dorothy Mottl of DMottl Realty will give you the tools to find and finance your dream home at this home buyer workshop. RSVP by March 9th requested. Refreshments will be served. Wednesday, March 14th 7:00-8:00pm.

Native Plants & Your Home Garden
Casey Struecker of Chikaming Open Lands will present on why and how to grow native plants, where to get them, and how to attract a variety of wildlife. Thursday, April 5th 6:30-8:00pm. Reservations recommended; call or stop by the Front Desk to register.

Senior Day Out
Seniors 55+ only- Come to the library for a rock & roll themed afternoon of food and wine, games and crafts, entertainment and more! Saturday, April 28th 3:00-5:00pm.

Star Wars Day
May the 4th be with you! Come take a photo with Star Wars characters, answer trivia, make a craft, and celebrate all things Star Wars! Dressing up is encouraged. Family friendly fun for all ages. Friday, May the 4th 4:00-5:30pm.

Craft Classes
Join our resident craft expert Debbie VerValin and learn a variety of new craft skills!  Projects include jewelry making, flower arranging, holiday crafts and much more.  Classes meet at 10:30-11:30am or 1:00-2:00pm and are free. Sign-up at the Front Desk; space is limited. 

  
Thursday, April 19th Fairy Lanterns.
Coloring Sessions

Fun, therapeutic, and stress relieving are just a few of the words used to describe the current adult coloring book craze. Come join us for a relaxing coloring session at the library! Supplies are included, but feel free to bring your own. Hot drinks and music will be provided.  No need to register, but if you'd like a reminder call, sign up at the Front Desk. Can't make it to a class? No problem! You can use our coloring materials any time the library is open, or take a few coloring pages home with you; just ask at the Front Desk.

Wednesday, March 14th, 10:30-11:30am
Wednesday, April 11th, 10:30-11:30am
Book Club
The Buchanan Book Club meets at the library the first Wednesday of every month at 6:00pm unless otherwise stated. Check the calendar for upcoming book club dates, or click here for the full 2018 list.

E-Book Device Hands-on Training Session
Come and get some hands on experience with our Kindle Fire and I-pad or bring in your own device and learn how to download books from the library's collection or click on the icon to get started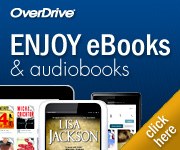 Stop by or call library to set up an appointment- 269-695-3681.
Looking for a good book to read?

View our most checked out titles and staff favorites by clicking here.